Who we are
Operating for over 30 years, Headlam is the UK's leading floorcoverings distributor.
The Company works with suppliers across the globe manufacturing the broadest range of products, and gives them a highly effective route to market, selling their products into the large and diverse trade customer base.
The Company has an extensive customer base spanning independent and multiple retailers, small and large contractors, and housebuilders. It provides its customers with a market leading service through the largest product range, in-depth knowledge, ecommerce and marketing support, and nationwide next day delivery service.
To maximise customer reach and sales opportunity, Headlam operates 67 businesses and trade brands across the UK and Continental Europe (France and the Netherlands), which are supported by the group's network, central resources and processes.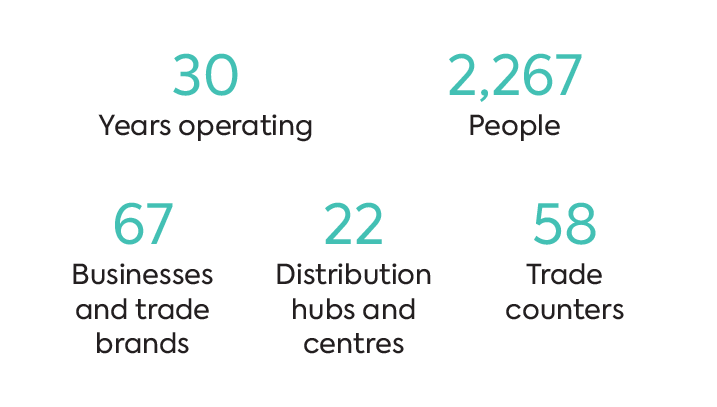 30 years of operating expertise
•  Knowledgeable and long serving colleagues
•  Servicing a large and diverse customer base
•  Long established supplier relationships across the globe
Nationwide network and operations
•  National and regional businesses
•  Next day delivery from extensive distribution network
•  Growing number of trade counter collection sites
Broadest and largest product range
•  Spanning a wide spectrum of price points and categories
•  Exclusive own branded products, and well recognised brands
•  New exclusive launches, including sustainable products
Leading customer servicing
•  Dedicated sales teams and marketing support
•  Tailored service propositions and comprehensive solutions
•  Investing in ecommerce and industry leading digital channels